2 Do not conform to the pattern of this world, but be transformed by the renewing of your mind. Then you will be able to test and approve what God's will is—his good, pleasing and perfect will.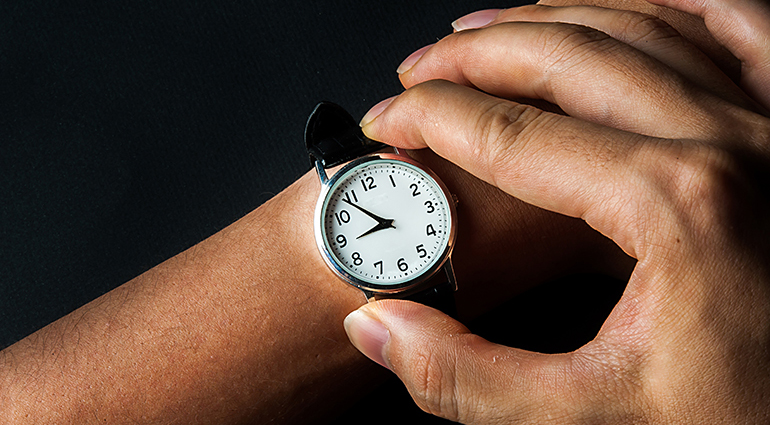 Come down immediately. I must stay at your house today. Luke 19:5
Rima, a Syrian woman who had recently moved to the United States, tried to explain to her tutor with hand motions and limited English why she was upset. Tears trickled down her cheeks as she held up a beautifully arranged platter of fatayer (meat, cheese, and spinach pies) that she had made. Then she said, "One man," and made a swishing sound as she pointed from the door to the living room and then back to the door. The tutor pieced together that several people from a nearby church were supposed to visit Rima and her family and bring some gifts. But only one man had shown up. He had hurried in, dropped off a box of items, and rushed out. He was busy taking care of a responsibility, while she and her family were lonely and longed for community and to share their fatayer with new friends.
Taking time for people is what Jesus was all about. He attended dinner parties, taught crowds, and took time for interaction with individuals. He even invited Himself to one man's house. Zacchaeus, a tax collector, climbed a tree to see Him, and when Jesus looked up, He said, "Come down immediately. I must stay at your house today" (Luke 19:1–9). And Zacchaeus's life was changed forever.
Because of other responsibilities, we won't always be able to take the time. But when we do, we have a wonderful privilege of being with others and watching the Lord work through us.
How have others taken time for you? How might you show Jesus's love to someone this week?
The best gift you can give to others may be your time.
When we first begin to form a habit, we are fully aware of it. There are times when we are aware of becoming virtuous and godly, but this awareness should only be a stage we quickly pass through as we grow spiritually. If we stop at this stage, we will develop a sense of spiritual pride. The right thing to do with godly habits is to immerse them in the life of the Lord until they become such a spontaneous expression of our lives that we are no longer aware of them. Our spiritual life continually causes us to focus our attention inwardly for the determined purpose of self-examination, because each of us has some qualities we have not yet added to our lives.
Your god may be your little Christian habit— the habit of prayer or Bible reading at certain times of your day. Watch how your Father will upset your schedule if you begin to worship your habit instead of what the habit symbolizes. We say, "I can't do that right now; this is my time alone with God." No, this is your time alone with your habit. There is a quality that is still lacking in you. Identify your shortcoming and then look for opportunities to work into your life that missing quality.
Love means that there are no visible habits— that your habits are so immersed in the Lord that you practice them without realizing it. If you are consciously aware of your own holiness, you place limitations on yourself from doing certain things— things God is not restricting you from at all. This means there is a missing quality that needs to be added to your life. The only supernatural life is the life the Lord Jesus lived, and He was at home with God anywhere. Is there someplace where you are not at home with God? Then allow God to work through whatever that particular circumstance may be until you increase in Him, adding His qualities. Your life will then become the simple life of a child.
Under Pressure
By: Joe Stowell, Author
"You know that the testing of your faith develops perseverance." James 1:3
When our kids were growing up, we loved having picnics in the backyard. No picnic was complete without a plate full of big, juicy watermelon slices! From my kids' point of view, part of the fun was playing with the seeds. As soon as a wet seed hit the table, they couldn't resist the urge to press it with their thumb to see how far they could make it fly across the table.
I can't help but think we're a lot like that when life presses down on us. When the pressure gets too intense, we start looking for ways to bail out from under the thumb of circumstances that seem too much to handle. And all too often we are tempted to bail in terms of our attitudes, feeling angry, bitter, or even mad at God—or anyone else we can blame our problems on. Or, we are tempted to bail in our actions by refusing to persevere in righteous ways.
Thankfully, James offers some great advice about why it's so important to stay under the pressure. He reminds us that God has a purpose in mind when He allows trials to press down on us. Like turning coals into diamonds, some things only happen under a lot of pressure. Staying under the pressure is how God tests our faith in order to make us "mature and complete" (James 1:4
). But, if we bail in our attitudes or actions under the burden, we interfere with the productive intentions that God has for our lives.
It's interesting that the Greek word James uses in our text for "perseverance" (James 1:3
) is hupomeno. It's derived from two Greek words: hupo (under) and meno (remain). James is making the point that in order to achieve God's refining goals for our lives, we need to be willing to cooperatively remain under the pressure.
It boils down to whether or not you want comfort or character. You may think that life should be a bed of roses, but if that's your take on life, you're in for a big surprise—trouble happens! The issue is not if you will face trials, it's how you will respond to the inevitable pressure that the problems of life bring.
It may be that you face pressure at work. In the face of a seemingly insurmountable project, it's easy to think, "If I just fudge a little bit I could get this job done faster." Or, when the problems at home won't go away, we find ourselves wondering, "Maybe I'll just leave so I won't have to deal with this anymore." The sin of pride causes us to respond to problems with thoughts like, "I don't deserve this." And soon our attitudes are in the dumper and God's work is derailed.
In fact, the next time you're tempted to bail on God and squeeze out from under the trouble, think of Jesus, who "humbled himself and became obedient to death" (Philippians 2:8
). He "remained under" great suffering for the purpose of making you better.
So embrace the process and permit God to do His work of making you more mature and usable, for your good and His glory. Believe me—the pain will be worth the gain!