"May God himself, the God of peace, sanctify you through and through. May your whole spirit, soul and body be kept blameless at the coming of our Lord Jesus Christ."
(The middle is a tough place to be).
The Middle
From: Get More Strength.org
I am a passionate fan of Oreo cookies. The mere thought of a tall, ice-cold glass of milk and a huge stack of Oreos is enough to induce some major hunger pangs. And I refuse to pay attention to the fine print on the back of the Oreo package that delineates the calories and fat content. When it comes to Oreos, I'm ready to throw all caution to the wind!
Which reminds me of their ad campaign that addressed that classic Oreo-eating technique in which you pull the chocolate cookie halves apart to get to the creamy frosting in the center. The ad gave this stern reproof to Oreo eaters everywhere: "Don't fiddle with the middle!"
I'm sure the people at the Oreo factory would be pleased to know that their advice still sticks in my mind. But it's not about their cookies. Let me explain.
All of us are aware that getting cleaned up for Jesus is an important thing. But most of the time we think about cleaning up all the visible stuff. You know, the stuff on the outside. We try to behave so that others will see that we are "good Christians." It's important to us that people in our small groups know that we are having our devotions. We volunteer in the church world, we make sure to put something in the offering plate as it goes by, and we have learned to say all the nice words and do all the right things at all the right times.
And while I'm not "out" on any of that, I do have a problem if your Christianity is only about the externals. Jesus stung some of the best-acting, spiritually spit-polished people of His day with the charge that they were like whitewashed tombs—all cleaned up on the outside but carrying the stench of death within (Matthew 23:27
). To Jews who believed that death and defilement were the same thing, this was a serious charge.
It's scary to think that the better you get on the outside, the worse you might become on the inside. Behaving really well can easily make you proud of yourself, and we all know what God thinks about pride in our hearts: He resists it (1 Peter 5:5
), and, in fact, a proud look makes the list of the seven things that are an abomination to Him (Proverbs 6:16-19
). Being really good can make a "finger-pointer" out of you real fast. It's amazing how easy it is for us to carry attitudes in our hearts that stink while we carry our Bible into church. So let's not forget that while man might applaud us for what's on the outside, God still looks at the heart! He knows all about that well-protected sin, that self-sufficient attitude, and those resentments we nurse. Like oranges that have been out of the fridge too long, you get no credit for looking good in the fruit bowl if there's something rotten on the inside.
This is what I like about Paul's prayer for the Thessalonians. He reminds us that it is God's plan to sanctify us through and through. In other words, God wants to fiddle with your middle! As Paul says in our text, authentic Christianity is about renewing our spirit, our soul, and then our body from the inside out. It's not a facelift—it's a heart transplant!
"Don't fiddle with the middle" may be good advice for Oreo eaters, but it's a terrible thing to say to God!
Not the One
From: Our Daily Bread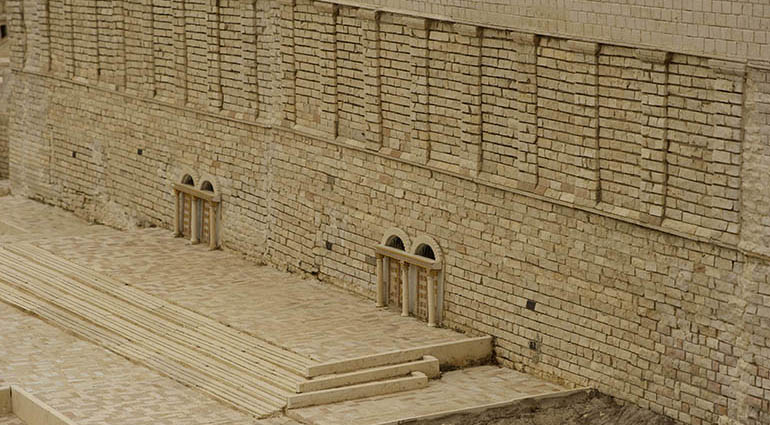 Do as you promised, so that it will be established and that your name will be great forever. 1 Chronicles 17:23–24
David had drawn up the plans. He designed the furniture. He collected the materials. He made all the arrangements (see 1 Chron. 28:11–19). But the first temple built in Jerusalem is known as Solomon's Temple, not David's.
For God had said, "You are not the one" (1 Chron. 17:4). God had chosen David's son Solomon to build the temple. David's response to this denial was exemplary. He focused on what God would do, instead of what he himself could not do (vv. 16–25). He maintained a thankful spirit. He did everything he could and rallied capable men to assist Solomon in building the temple (see 1 Chron. 22).
Bible commentator J. G. McConville wrote: "Often we may have to accept that the work which we would dearly like to perform in terms of Christian service is not that for which we are best equipped, and not that to which God has in fact called us. It may be, like David's, a preparatory work, leading to something more obviously grand."
David sought God's glory, not his own. He faithfully did all he could for God's temple, laying a solid foundation for the one who would come after him to complete the work. May we, likewise, accept the tasks God has chosen for us to do and serve Him with a thankful heart! Our loving God is doing something "more obviously grand."
Father, we want our hopes and dreams and our hearts to align with Yours. Teach us to praise You when we are tempted to doubt Your goodness.
God may conceal the purpose of His ways, but His ways are not without purpose.
Clueless at the Light
From: Our Daily Journey
Ahead of me, two rows of cars waited for the traffic light to turn from red to green. Beside us, in the turn lane, a third line of vehicles awaited a green arrow so they could turn left.
The turn-lane arrow turned green. Our light remained red. But both vehicles in front of me (the two cars not in the turn lane) proceeded as if the green arrow applied to them! The horn-honking from opposing traffic was, shall we say, emphatic. Both drivers had been influenced by the driver in the turn lane—and each other—without a clue that their light was still red.
Whether intentional or otherwise, we do influence each other. And how easily we're swayed when uncertain of the truth!
Among the "thirty sayings" he left for his son, King Solomon said this about influence: "Listen to the words of the wise; apply your heart to my instruction. For it is good to keep these sayings in your heart" (Proverbs 22:17-18). Then he noted the importance of choosing good friends. "Don't befriend angry people or associate with hot-tempered people, or you will learn to be like them and endanger your soul" (Proverbs 22:24-25).
It's important to be discerning when choosing friends. At times, however, even trusted friends will display negative behaviors. So whose lead should we follow? Well, it's hard to go wrong when we keep our eyes on the One who is the Truth. As the apostle Paul said, "Imitate me just as I imitate Christ" (1 Corinthians 11:1).
The more we follow leaders with integrity, heed wise counsel, and surround ourselves with friends who truly care about us, the less likely we'll be swayed by a complaining coworker, popular opinion, or our own doubtful heart. Jesus can shape and lead us through others who are close to Him.