Matthew 11: 4-15     
4 Jesus answered and said to them, "Go and tell John the things which you hear and see: 5 The blind see and the lame walk; the lepers are cleansed and the deaf hear; the dead are raised up and the poor have the gospel preached to them. 6 And blessed is he who is not offended because of Me."
7 As they departed, Jesus began to say to the multitudes concerning John: "What did you go out into the wilderness to see? A reed shaken by the wind? 8 But what did you go out to see? A man clothed in soft garments? Indeed, those who wear soft clothing are in kings' houses.9 But what did you go out to see? A prophet? Yes, I say to you, and more than a prophet. 10 For this is he of whom it is written:
'Behold, I send My messenger before Your face,
Who will prepare Your way before You.'[b]
11 "Assuredly, I say to you, among those born of women there has not risen one greater than John the Baptist; but he who is least in the kingdom of heaven is greater than he. 12 And from the days of John the Baptist until now the kingdom of heaven suffers violence, and the violent take it by force. 13 For all the prophets and the law prophesied until John. 14 And if you are willing to receive it, he is Elijah who is to come.15 He who has ears to hear, let him hear!
pictures of hunters camouflaged  
The Ministry of the Unnoticed
From: Utmost.org
The New Testament notices things that do not seem worthy of notice by our standards. "Blessed are the poor in spirit…." This literally means, "Blessed are the paupers." Paupers are remarkably commonplace! The preaching of today tends to point out a person's strength of will or the beauty of his character— things that are easily noticed. The statement we so often hear, "Make a decision for Jesus Christ," places the emphasis on something our Lord never trusted. He never asks us to decide for Him, but to yield to Him— something very different. At the foundation of Jesus Christ's kingdom is the genuine loveliness of those who are commonplace. I am truly blessed in my poverty. If I have no strength of will and a nature without worth or excellence, then Jesus says to me, "Blessed are you, because it is through your poverty that you can enter My kingdom." I cannot enter His kingdom by virtue of my goodness— I can only enter it as an absolute pauper.
The true character of the loveliness that speaks for God is always unnoticed by the one possessing that quality. Conscious influence is prideful and unchristian. If I wonder if I am being of any use to God, I instantly lose the beauty and the freshness of the touch of the Lord. "He who believes in Me…out of his heart will flow rivers of living water" (John 7:38). And if I examine the outflow, I lose the touch of the Lord.
Who are the people who have influenced us most? Certainly not the ones who thought they did, but those who did not have even the slightest idea that they were influencing us. In the Christian life, godly influence is never conscious of itself. If we are conscious of our influence, it ceases to have the genuine loveliness which is characteristic of the touch of Jesus. We always know when Jesus is at work because He produces in the commonplace something that is inspiring.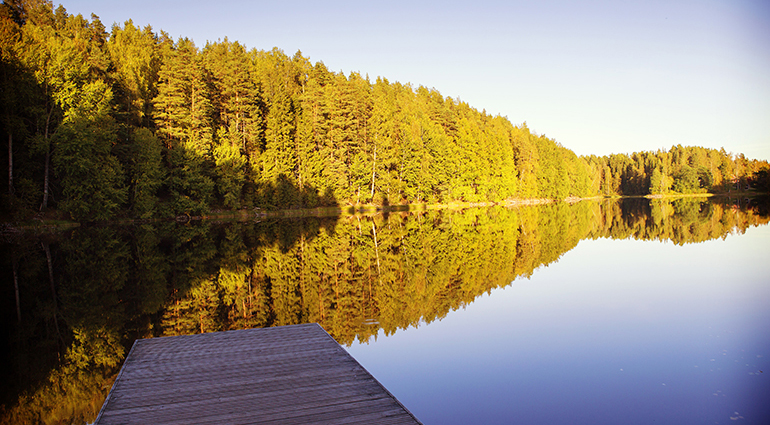 "We've created more information in the last five years than in all of human history before it, and it's coming at us all the time" (Daniel Levitin, author of The Organized Mind: Thinking Straight in the Age of Information Overload).  "In a sense," Levitin says, "we become addicted to the hyperstimulation." The constant barrage of news and knowledge can dominate our minds. In today's environment of media bombardment, it becomes increasingly difficult to find time to be quiet, to think, and to pray.
Psalm 46:10 says, "Be still, and know that I am God," reminding us of the necessity to take time to focus on the Lord. Many people find that a "quiet time" is an essential part of each day—a time to read the Bible, pray, and consider the goodness and greatness of God.
When we, like the writer of Psalm 46, experience the reality that "God is our refuge and strength, an ever-present help in trouble" (v. 1), it drives our fear away (v. 2), shifts our focus from the world's turmoil to God's peace, and creates a quiet confidence that our Lord is in control (v. 10).
No matter how chaotic the world may become around us, we can find quietness and strength in our heavenly Father's love and power.
Heavenly Father, we bring our noisy lives and our cluttered minds to You so that we can learn to be still and know that You are God.
Each day we need to be still and listen to the Lord.
No More Excuses
From: CBN, and Nina Keegan, author
Isn't an excuse just a little white lie the enemy uses to blindfold us and keep us in mediocracy?
A friend of mine was recently telling me that her son just cannot take tests. He excels in his class work, but when it comes to test-taking his mind goes blank and he fails. This was the reason he was doing so poorly in his classes.
Somewhere along the line this lie was spoken over him or he just decided it himself; but over the years defeat became etched into His mind like a river carves itself through a mountain base. Deeper and deeper it flows. Then it became a bonafide reality gripping itself to his leg like a ball and chain, and eventually an excuse to fail.
Excuses in our lives give us permission to settle for less than God's best. It seems we always have an excuse for our shortcomings. We always have something or someone else to blame for our less-than-stellar lot in life. It is never our fault. We continuously brand our insecurities through seemingly justifiable alibis. We declare this is how it always is for us, for our families. We inhale the status quo and exhale the mundane.
Most failures come from a history of excuses and a lack of perseverance.
Closed doors don't always mean NO. Most of the time they mean that God has a bigger and better door. We must move forward and keep knocking.
"Ask, and it will be given to you; seek, and you will find; knock, and it will be opened to you." Matthew 7:7 ESV
We get so immersed in the past and caught up on old technicalities we can't see hope staring at us through the dirty windows of our own self-appointed limitations. We are confined only by the walls we build ourselves. We can get so stuck in the rut of excuses we even make excuses for our excuses.
The Bible is littered with excuse-makers, starting off with Eve claiming it was all the serpent's fault and its erroneous ability to deceive her.
Then the Lord God said to the woman, "What is this that you have done?" The woman said, "The serpent deceived me, and I ate." Genesis 3:13 ESV
God is saying enough!
It's time to receive the victory God has in store for you. You can do all things through Christ who gives you strength! He can give you supernatural qualifications. He can cause you to be at the right place at the right time. If you speak life into your situation and speak faith into your circumstances, the favor of God and the blessings of Heaven will chase you down when you stop excusing them away.
The grace of God will supply all you need. Consequently, you will have no need for further rationalizations for lack of personal victory in your life.
Trust the Word of God and the plans He has for your life! God's plan says He will give you a new hope and a bright future.
Success will ultimately come to you when your dreams become bigger than your excuses.
Put to rest forever the old, makeshift justifications. Peel back the layers of excuse after excuse that are holding you back from God's best. Become a new creation in Christ and let the blood of Jesus and His salvation promises justify you, vindicate you, and excuse you from your excuses!
Through Christ, you are made new and made whole in every area of your life. Stop excusing away your dreams. Instead, grab hold of them. Start speaking life into your life. Let the promises of God settle in your heart, declare these truths, and let them override your regrets and rationalizations now.
When you give up your excuses you will find your results.
Now the word of the LORD came to me, saying, "Before I formed you in the womb I knew you, and before you were born I consecrated you; I appointed you a prophet to the nations." Then I said, "Ah, Lord God! Behold, I do not know how to speak, for I am only a youth." But the Lord said to me, "Do not say, 'I am only a youth'; for to all to whom I send you, you shall go, and whatever I command you, you shall speak. Do not be afraid of them, for I am with you to deliver you, declares the Lord." Jeremiah 1:4-10 ESV