John 18: 33-38
33 Then Pilate went back into his headquarters and called for Jesus to be brought to him. "Are you the king of the Jews?" he asked him.
34 Jesus replied, "Is this your own question, or did others tell you about me?"
35 "Am I a Jew?" Pilate retorted. "Your own people and their leading priests brought you to me for trial. Why? What have you done?"
36 Jesus answered, "My Kingdom is not an earthly kingdom. If it were, my followers would fight to keep me from being handed over to the Jewish leaders. But my Kingdom is not of this world."
37 Pilate said, "So you are a king?"
Jesus responded, "You say I am a king. Actually, I was born and came into the world to testify to the truth. All who love the truth recognize that what I say is true."
38 "What is truth?" Pilate asked. Then he went out again to the people and told them, "He is not guilty of any crime. 39 But you have a custom of asking me to release one prisoner each year at Passover. Would you like me to release this 'King of the Jews'?"
( Did you notice two things Pilate said, 1. What is truth? and 2. He is not guilty of any crime).
The prophets told the truth because things happened just as they said.
True Truth
From: Get More Strength
"Prophecy never had its origin in the will of man, but men spoke from God as they were carried along by the Holy Spirit." 2 Peter 1:21
Remember the days of the multivolume encyclopedia? Not long ago nearly every home had a set gathering dust on the bookcase.
Not anymore! Research materials are now easily found on the Internet. The unprecedented growth of the web gives us a staggering amount of information, literally at our fingertips.
One of the most interesting variants is "Wikipedia"—a completely online, free encyclopedia compiled by contributions from its users. It can be a helpful, fascinating source of information, but somehow the idea of everyone contributing their "two cents" to an article makes me a little uneasy about using that information as a primary source of authority and reliability.
Hopefully you are not among them, but some skeptics view the Bible as if it were compiled like a Wikipedia article. With more than 40 contributing authors spanning several centuries, they say, it cannot be completely accurate. But Scripture sets the record straight. There is only one author. Peter wrote, "Prophecy never had its origin in the will of man" (2 Peter 1:21
). In other words, we are not reading the mere thoughts of Moses, David, Isaiah, Paul, or Peter. Rather, the words of the Bible come directly from God, put to paper by men "as they were carried along by the Holy Spirit."
Which means that we find incredible unity, clarity, and commonality flowing through the Old and New Testaments. The truths expressed in Daniel's writing from the palace courts of Babylon are mirrored in John's words from the isle of Patmos, hundreds of years later. The themes of God's character, of man's rebellion, and of God's glorious plan of redemption wind their way through each page. Further additions, revisions, or retractions are unthinkable and unnecessary because God's Word is confidently complete.
If what you need is a quick glance at the history of jazz music, the opinions and perspectives offered in Wikipedia might be helpful. But, if you're looking for meaning and purpose and the answers to life's deepest questions, a multiplicity of conflicting opinions won't help.
Thank God that He has given us what we need for every challenge and crossroad of life as His clear and trustworthy voice speaks to us through His Word!
Our Father's Face
From: Our Daily Bread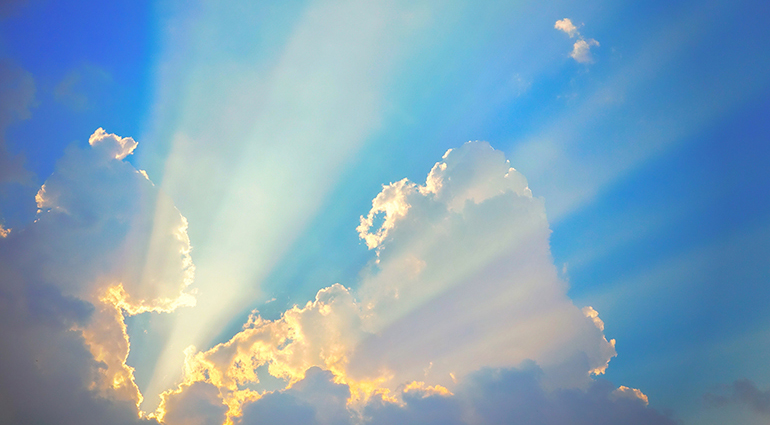 Restore us, O God; make your face shine on us, that we may be saved. Psalm 80:3
I remember my father's face. It was hard to read. He was a kind man, but stoic and self-contained. As a child, I often searched his face, looking for a smile or other show of affection. Faces are us. A frown, a sullen look, a smile, and crinkly eyes reveal what we feel about others. Our faces are our "tell."
Asaph, the author of Psalm 80, was distraught and wanted to see the Lord's face. He looked north from his vantage point in Jerusalem and saw Judah's sister-state, Israel, collapse under the weight of the Assyrian Empire. With her buffer state gone, Judah was vulnerable to invasion from all sides—Assyria from the north, Egypt from the south, and the Arab nations from the east. She was outnumbered and outmatched.
Asaph gathered up his fears in a prayer, three times repeated (80:3, 7, 19), "Make your face shine on us, that we may be saved." (Or, in other words, let me see Your smile.)
It's good to look away from our fears and search our heavenly Father's face. The best way to see God's face is to look at the cross. The cross is His "tell" (John 3:16).
So know this: When your Father looks at you, He has a great big smile on His face. You're very safe!
Ask God to shine His face on you. For further help in prayer, try praying this Psalm or others.
Tell us what your favorite Psalm is and encourage others: Facebook.com/ourdailybread.
God's love for us is as expansive as the open arms of Christ on the cross.
The Holy Suffering of the Saint
From: Utmost.org
Choosing to suffer means that there must be something wrong with you, but choosing God's will— even if it means you will suffer— is something very different. No normal, healthy saint ever chooses suffering; he simply chooses God's will, just as Jesus did, whether it means suffering or not. And no saint should ever dare to interfere with the lesson of suffering being taught in another saint's life.
The saint who satisfies the heart of Jesus will make other saints strong and mature for God. But the people used to strengthen us are never those who sympathize with us; in fact, we are hindered by those who give us their sympathy, because sympathy only serves to weaken us. No one better understands a saint than the saint who is as close and as intimate with Jesus as possible. If we accept the sympathy of another saint, our spontaneous feeling is, "God is dealing too harshly with me and making my life too difficult." That is why Jesus said that self-pity was of the devil (see Matthew 16:21-23). We must be merciful to God's reputation. It is easy for us to tarnish God's character because He never argues back; He never tries to defend or vindicate Himself. Beware of thinking that Jesus needed sympathy during His life on earth. He refused the sympathy of people because in His great wisdom He knew that no one on earth understood His purpose (see Matthew 16:23). He accepted only the sympathy of His Father and the angels (see Luke 15:10).
Look at God's incredible waste of His saints, according to the world's judgment. God seems to plant His saints in the most useless places. And then we say, "God intends for me to be here because I am so useful to Him." Yet Jesus never measured His life by how or where He was of the greatest use. God places His saints where they will bring the most glory to Him, and we are totally incapable of judging where that may be.