In You do I trust; cause me to know the way in which I should walk.  Psalm 143: 8
Psalm 23
A psalm of David.
1 The Lord is my shepherd, I lack nothing.
2     He makes me lie down in green pastures,
he leads me beside quiet waters,
3     he refreshes my soul.
He guides me along the right paths
    for his name's sake.
4 Even though I walk
    through the darkest valley,[a]
I will fear no evil,
    for you are with me;
your rod and your staff,
    they comfort me.
5 You prepare a table before me
    in the presence of my enemies.
You anoint my head with oil;
    my cup overflows.
6 Surely your goodness and love will follow me
    all the days of my life,
and I will dwell in  the house of the Lord
    forever.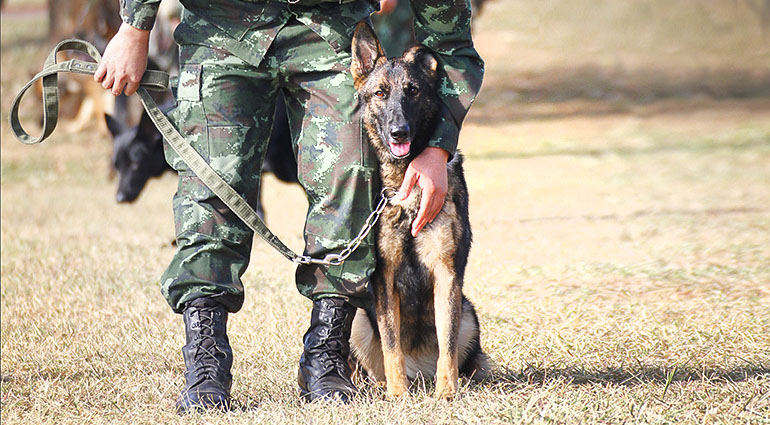 In You do I trust; cause me to know the way in which I should walk.
I am amazed by the story of the World War II paradogs. In preparing for D-Day (June 6, 1944), the Allied troops needed the sharp senses of dogs to sniff their way through minefields and to warn troops of approaching danger. And the only way to get these dogs to troops behind enemy lines was by parachute. But dogs are instinctively afraid of doing this—and let's be honest, they are not alone. Yet after weeks of training, the dogs learned to trust their masters enough to jump at their command.
I wonder if any of us trust our Master enough to do challenging things we would never instinctively do or things that might make us fearful. We may not be instinctively generous or forgiving or patient with those who annoy us. Yet Jesus commands us to trust Him enough to do things that may be difficult but that will advance His kingdom. To say, "In You do I trust; cause me to know the way in which I should walk" (Ps. 143:8 nkjv).
Paradogs often received medals for their bravery. I believe we too will someday hear "well done" because we have trusted our Master enough to jump when He said, "Go!"
Is God asking you to do something that you are afraid to do? Will you trust Him to lead you and walk with you?
Trust Jesus to show you how you can be used by Him.
[Written by Joe Stowell for Our Daily Bread.]
"[Satan] was a murderer from the beginning, and does not stand in the truth, because there is no truth in him. . . . He is a liar and the father of it." John 8:44
Politicians are adept at "spinning" the details of a story to advance their own agenda. During a political campaign, spin doctors massage stories to ensure that their candidate is cast in a positive light—often at the expense of the truth. This leaves us with serious questions about what the real truth is.
According to Jesus, Satan is the "spin doctor" of hell—the master deceiver who "speaks from his own resources, for he is a liar" (John 8:44
). He casts himself as the one who wants to give us unfettered freedom and pleasure, carefully masking his plan to steal, kill, and destroy us (John 10:10
). He even spins the loving laws of God by claiming that God's boundaries are restrictive, simply intended to take all the fun out of living. When we buy into Satan's damaging lies, we will eventually find ourselves empty and broken—sidelined in our journey with God.
Thankfully, Jesus warns us. He says that Satan is the father of lies. And we know Satan is lying when what he tells us contradicts God's Word. Jesus, on the other hand, is the truth (John 14:6
). So, when it comes to sorting out the spin, our only defense against the spin doctor of hell is to listen constantly for the voice of Jesus as we pray and study His Word. And that's the truth!
The devil is crafty, deceptive, and sly;
He cleverly tricks us to swallow his lie.
But his cunning methods we're sure to discern
If we make God's warnings our daily concern. —D. De Haan
God's truth stops the spin of Satan's lies.
Individuality
Individuality is the hard outer layer surrounding the inner spiritual life. Individuality shoves others aside, separating and isolating people. We see it as the primary characteristic of a child, and rightly so. When we confuse individuality with the spiritual life, we remain isolated. This shell of individuality is God's created natural covering designed to protect the spiritual life. But our individuality must be yielded to God so that our spiritual life may be brought forth into fellowship with Him. Individuality counterfeits spirituality, just as lust counterfeits love. God designed human nature for Himself, but individuality corrupts that human nature for its own purposes.
The characteristics of individuality are independence and self-will. We hinder our spiritual growth more than any other way by continually asserting our individuality. If you say, "I can't believe," it is because your individuality is blocking the way; individuality can never believe. But our spirit cannot help believing. Watch yourself closely when the Spirit of God is at work in you. He pushes you to the limits of your individuality where a choice must be made. The choice is either to say, "I will not surrender," or to surrender, breaking the hard shell of individuality, which allows the spiritual life to emerge. The Holy Spirit narrows it down every time to one thing (see Matthew 5:23-24). It is your individuality that refuses to "be reconciled to your brother" (Matthew 5:24). God wants to bring you into union with Himself, but unless you are willing to give up your right to yourself, He cannot. "…let him deny himself…"— deny his independent right to himself. Then the real life-the spiritual life-is allowed the opportunity to grow.
WISDOM FROM OSWALD CHAMBERS
From: Streams in the Desert
Attention! Praise the Lord, all you servants of the Lord, who serve in the Lord's temple during the night. May the Lord, the Creator of heaven and earth, bless you from Zion!—Ps 134:1,3
Strange time for adoration, you say, to stand in God's house by night, to
worship
in the depth of sorrow —it is indeed an arduous thing. Yes, and therein lies the blessing; it is the test of perfect faith. If I would know the love of my friend I must see what it can do in the winter. So with the Divine love. It is easy for me to worship in the summer sunshine when the melodies of life are in the air and the fruits of life are on the tree. But let the song of the bird cease and the fruit of the tree fall, and will my heart still go on to sing? Will I stand in God's house by night? Will I love Him in His own night? Will I watch with Him even one hour in His Gethsemane? Will I help to bear His cross up the dolorous way? Will I stand beside Him in His dying moments with Mary and the beloved disciple? Will I be able with Nicodemus to take up the dead Christ? Then is my worship complete and my blessing glorious. My love has come to Him in His humiliation. My faith has found Him in His lowliness. My heart has recognized His majesty through His mean disguise, and I know at last that I desire not
the gift
but the Giver. When I can stand in His house by night I have accepted Him for Himself alone.
—George Matheson
"My goal is God Himself, not joy, nor peace,
Nor even blessing, but Himself, my God; 
'Tis His to lead me there, not mine, but His
'At any cost, dear Lord, by any road!'
"So faith bounds forward to its goal in God, 
And love can trust her Lord to lead her there; 
'Upheld by Him, my soul is following hard 
Till God hath full fulfilled my deepest prayer.
"No matter if the way be sometimes dark, 
No matter though the cost be ofttimes great, 
He knoweth how I best shall reach the mark, 
The way that leads to Him must needs be straight.
"One thing I know, I cannot say Him nay; 
One thing I do, I press towards my Lord; 
My God my glory here, from day to day, 
And in the glory there my Great Reward."
---