My Refuge and My Fortress       Psalm 91: 4
…3 For it is He who delivers you from the snare of the trapper And from the deadly pestilence. 
4 He will cover you with His pinions, And under His wings you may seek refuge; His faithfulness is a shield and bulwark. 
5 You will not be afraid of the terror by night, Or of the arrow that flies by day;…
Under His Wings
From: Our Daily Bread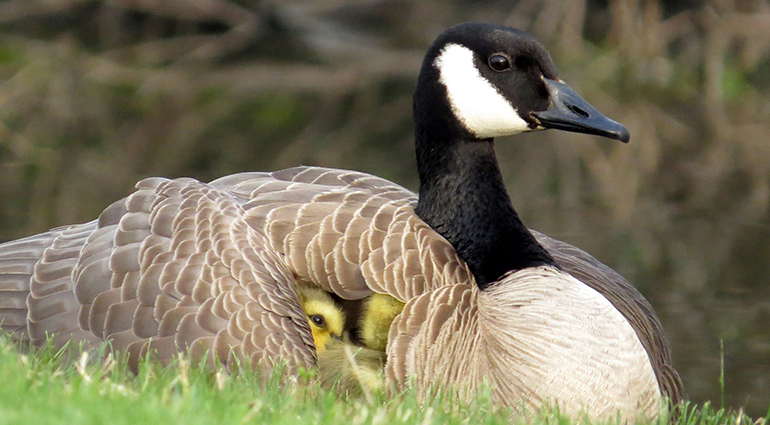 He will cover you with his feathers, and under his wings you will find refuge. Psalm 91:4
When I think of protection, I don't automatically think of a bird's feathers. Though a bird's feathers might seem like a flimsy form of protection, there is more to them than meets the eye.
Bird feathers are an amazing example of God's design. Feathers have a smooth part and a fluffy part. The smooth part of the feather has stiff barbs with tiny hooks that lock together like the prongs of a zipper. The fluffy part keeps a bird warm. Together both parts of the feather protect the bird from wind and rain. But many baby birds are covered in a fluffy down and their feathers haven't fully developed. So a mother bird has to cover them in the nest with her own feathers to protect them from wind and rain.
The image of God "[covering] us with his feathers" in Psalm 91:4 and in other Bible passages (see Ps. 17:8) is one of comfort and protection. The image that comes to mind is a mother bird covering her little ones with her feathers. Like a parent whose arms are a safe place to retreat from a scary storm or a hurt, God's comforting presence provides safety and protection from life's emotional storms.
Though we go through trouble and heartache, we can face them without fear as long as our faces are turned toward God. He is our "refuge" (91:2, 4, 9).
Father God, help me trust that You are bigger than any fear I have.
Our Daily Bread welcomes writer Linda Washington! Meet Linda and all our authors at odb.org/all-authors
When fear causes hope to fade, flee to God, the refuge you can reach on your knees.
This Great Brightness
From: Our Daily Journey
Read:
Exodus 34:29-35
When Moses came down Mount Sinai carrying the two stone tablets inscribed with the terms of the covenant, he wasn't aware that his face had become radiant because he had spoken to the Lord (Exodus 34:29).
Our faces can give clues to our life experiences. They reveal our emotions, hint at our age, and indicate whether or not we've led difficult lives. They can also hint at whether or not we've been with God. I once had a co-worker at my workplace ask why I was so joyful and smiling all the time. His question caught me off guard; I wasn't aware my face was revealing anything. I paused, and then answered, "Jesus." He laughed off my reply and then asked, "No, really, why?" I reiterated, "Jesus."
On Mount Sinai, Moses spent some incredible moments with God. When he came down from the mountain, those who saw him noticed that, "His face was radiant because he had spoken to the Lord" (Exodus 34:29). God's light and life streamed in and through Moses. His face literally glowed with the glory of God.
In the New Testament we read that when Stephen, the first martyr, stood before his accusers, "everyone in the high council stared at Stephen, because his face became as bright as an angel's" (Acts 6:15). The bright and loving wisdom on Moses' and Stephen's faces revealed God's glory—that they'd been with Him. Peter, James, and John also glimpsed such radiance on Jesus' face. Matthew 17:2 recounts that "Jesus' appearance was transformed so that his face shone like the sun, and his clothes became as white as light."
Ecclesiastes 8:1 declares, "Wisdom lights up a person's face, softening its harshness." Biblical and experiential accounts demonstrate that the more we grow in our relationship with Jesus (John 17:3), the more our lives and faces will radiate Him. They will metaphorically, and one day literally, reveal His glory.
The Evidence of the New Birth
From: Utmost.org
The answer to Nicodemus' question, "How can a man be born when he is old?" is: Only when he is willing to die to everything in his life, including his rights, his virtues, and his religion, and becomes willing to receive into himself a new life that he has never before experienced (John 3:4). This new life exhibits itself in our conscious repentance and through our unconscious holiness.
"But as many as received Him…" (John 1:12). Is my knowledge of Jesus the result of my own internal spiritual perception, or is it only what I have learned through listening to others? Is there something in my life that unites me with the Lord Jesus as my personal Savior? My spiritual history must have as its underlying foundation a personal knowledge of Jesus Christ. To be born again means that I see Jesus.
"…unless one is born again, he cannot see the kingdom of God " (John 3:3). Am I seeking only for the evidence of God's kingdom, or am I actually recognizing His absolute sovereign control? The new birth gives me a new power of vision by which I begin to discern God's control. His sovereignty was there all the time, but with God being true to His nature, I could not see it until I received His very nature myself.
"Whoever has been born of God does not sin…" (1 John 3:9). Am I seeking to stop sinning or have I actually stopped? To be born of God means that I have His supernatural power to stop sinning. The Bible never asks, "Should a Christian sin?" The Bible emphatically states that a Christian must not sin. The work of the new birth is being effective in us when we do not commit sin. It is not merely that we have the power not to sin, but that we have actually stopped sinning. Yet 1 John 3:9 does not mean that we cannot sin— it simply means that if we will obey the life of God in us, that we do not have to sin.