We Will Be There Soon
I grew up in a road trip-taking family. You know one when you see one. My parents would pile all my siblings and me into the car, pack sandwiches for lunch on the road, and play road trip games like "punch buggy"—remember that game? Our summer vacations always consisted of long road trips, sometimes traveling across the country. While those days were long, I have fond memories of those trips and the many hours I spent in the car with my family.
Anyone who has ever taken a road trip with children knows the age-old question that is always asked: "Are we there yet?" My siblings and I would ask that exact question on every single road trip, almost every hour of the drive. To which my parents would reply, "Not yet. We will be there soon."
When I think of the "end times" or the second coming of Christ, I often ask myself as an adult the same question I did as a child on a road trip, "Are we there yet?" If we take one look around at our world and culture today, it is no surprise that we are experiencing what some would call signs of the end times. We live in a broken, hopeless world filled with war, famine, and disaster. We absolutely need a savior, and the second coming of Christ sometimes feels so very near. However, the Bible is certain that while we won't know the day or the hour, we can be prepared.
Mark 13:32-33 (ESV) states,
"But concerning that day or that hour, no one knows, not even the angels in heaven, nor the Son, but only the Father. Be on guard, keep awake. For you do not know when the time will come."
The Bible is clear that we do not know when Christ will return. However, we can be prepared in the waiting. It is easy to go about our life and our day-to-day routine without living in the light of eternity. We must make the conscious decision to be alert and awake, prepared for Christ's return to arrive, just as it tells us in the book of Mark.
So, what does that mean for you and me to stay on guard, prepared for Christ's return? Maybe that means joining a small group at your church, volunteering with a local shelter, or witnessing to your family and friends who do not yet know Jesus. Maybe that means devoting yourself to prayer, reading your Bible every day, or even coming back to an intimate relationship with Jesus as your Lord and Savior. It is never too late to return to Christ, and the Bible tells us that today is the day of salvation. What a beautiful hope we have in that! 2 Corinthians 6:2 says,
"…Behold, now is the favorable time; behold, now is the day of salvation."
Jesus is waiting with arms open wide. He welcomes us in and calls us sons and daughters of the King (2 Corinthians 6:18). Today, if we have "fallen asleep" to the things of God, would we wake up and be on guard again? Would we invite Christ into our lives to transform us and then ask Him to show us how to witness to those around us?
We know Heaven is the road trip destination to our life here on earth, and while we are on the journey, we can be prepared and alert, ready for Christ to arrive.
When It's Not Your Day
MARCH 13, 2023
"We demolish arguments and every pretension that sets itself up against the knowledge of God, and we take captive every thought to make it obedient to Christ." 2 Corinthians 10:5 (NIV)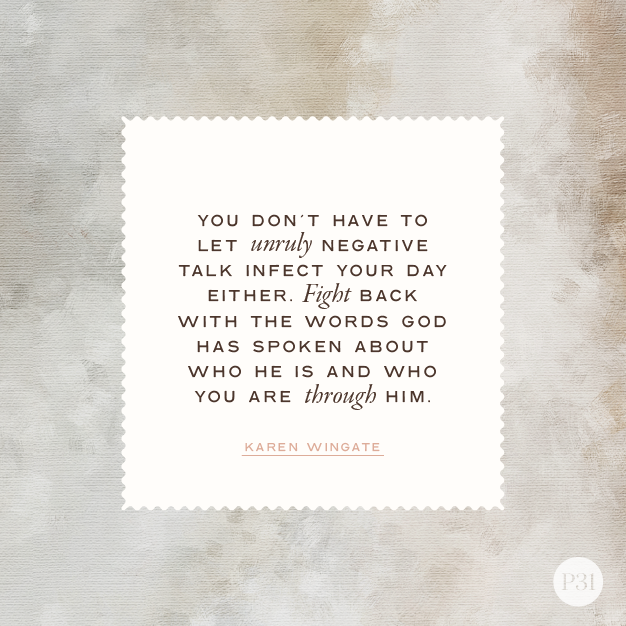 After rounding the first corner of a fitted sheet over my mattress, I moved to the second corner but discovered I had started with the short end. Rotating the sheet, I tried again. But as I smoothed the second corner, the first popped off. Ugh!
I jerked at the sheet in frustration, muttering, "Not my day."
Wait a minute. Where did that come from? Had I not written to my Facebook friends about the joy of the morning just hours before? "It's a beautiful morning. Sun shining, cool breeze, birds singing, warm mug of coffee … Happy moment!"
Yet suddenly, my mouth spouted words that categorized the entire day as bad because of one obstinate bedsheet.
In the scheme of things, a fitted sheet is a blip on life's radar. And no matter what struggles enter my day, I don't need to default to a "bad day" mentality. God is still on the throne, He is good, He loves me, and His blessings embrace every aspect of my life.
Still … I catch myself thinking those irrelevant, negative phrases more often than I care to admit:
You always do that.
They'll never change.
I'm not good enough.
I can never do anything right.
I know they're not true. And I could wave my thoughts aside, justifying them in the emotion of the moment, but the problem is, if you and I say or think those negative ideas often enough, they become like tiny seeds that germinate and take root in the well-watered corners of our memories. Soon, the same thought comes more frequently with greater intensity, and we accept as truth what is actually a lie our enemy would have us believe.
I like the how-to advice Paul gave the Corinthian church in 2 Corinthians 10:5: "We demolish arguments and every pretension that sets itself up against the knowledge of God, and we take captive every thought to make it obedient to Christ."
Why should we destroy and imprison arguments and statements that go against what God says? Because if we don't, they are free to run wild. They'll take up residence in our brains. Eventually we'll say them, and those who hear us will be infected too. Those casual, untrue statements are as unwholesome as any foul language and do nothing to build up our faith or benefit those who overhear us. (Ephesians 4:29)
We can't prevent those thoughts from sounding in our brains, but we can refuse to mull over them. Think about the imagery Paul used: "take captive every thought." Like putting up a blockade to divert unwanted traffic, we have the choice to confine our negative thoughts and false words. We refuse to let the thoughts continue; in fact, we walk away from their influence.
Another of Paul's letters encourages us to keep our minds focused on what is true, just, lovely and admirable. (Philippians 4:8) As you read that, you might think, But my thoughts are true! Just not always positive …
If that's you, consider this: Looking at the positive or lovely reveals just as much truth as looking at the negative side of things — so why not balance our talk with positive words?
I considered this as I took a breath and unclenched the sheet in my fists. It was my day. More importantly, it was God's day because He made it. Nothing had to separate me from thoughts about the great love God has for me — not even a fitted bedsheet.
You don't have to let unruly negative talk infect your day either. Fight back with the words God has spoken about who He is and who you are through Him.
The Deeds of the Lord – Streams in the Desert – March 13
They sang the song of Moses the servant of God and the song of the Lamb: "Great and astounding are your deeds, Lord God, the All-Powerful! Just and true are your ways, King over the nations! (Rev 15:3)
The following incident is related by Mrs. Charles Spurgeon, who was a great sufferer for more than a quarter of a century:
"At the close of a dark and gloomy day, I lay resting on my couch as the deeper night drew on; and though all was bright within my cozy room, some of the external darkness seemed to have entered into my soul and obscured its spiritual vision. Vainly I tried to see the Hand which I knew held mine, and guided my fog-enveloped feet along a steep and slippery path of suffering. In sorrow of heart I asked,
"'Why does my Lord thus deal with His child? Why does He so often send sharp and bitter pain to visit me? Why does He permit lingering weakness to hinder the sweet service I long to render to His poor servants?'
"These fretful questions were quickly answered, and through a strange language; no interpreter was needed save the conscious whisper of my heart.
"For a while silence reigned in the little room, broken only by the crackling of the oak log burning in the fireplace. Suddenly I heard a sweet, soft sound, a little, clear, musical note, like the tender trill of a robin beneath my window.
"'What can it be? surely no bird can be singing out there at this time of the year and night.'
"Again came the faint, plaintive notes, so sweet, so melodious, yet mysterious enough to provoke our wonder. My friend exclaimed,
"'It comes from the log on the fire!' The fire was letting loose the imprisoned music from the old oak's inmost heart!
"Perchance he had garnered up this song in the days when all was well with him, when birds twittered merrily on his branches, and the soft sunlight flecked his tender leaves with gold. But he had grown old since then, and hardened; ring after ring of knotty growth had sealed up the long-forgotten melody, until the fierce tongues of the flames came to consume his callousness, and the vehement heart of the fire wrung from him at once a song and a sacrifice. 'Ah,' thought I, 'when the fire of affliction draws songs of praise from us, then indeed we are purified, and our God is glorified!'
"Perhaps some of us are like this old oak log, cold, hard, insensible; we should give forth no melodious sounds, were it not for the fire which kindles around us, and releases notes of trust in Him, and cheerful compliance with His will.
"'As I mused the fire burned,' and my soul found sweet comfort in the parable so strangely set forth before me.
"Singing in the fire! Yes, God helping us, if that is the only way to get harmony out of these hard apathetic hearts, let the furnace be heated seven times hotter than before."
Today's Devotions
Morning
March 13
Numbers 22:31-32 31Then the LORD opened Balaam's eyes, and he saw the angel of the LORD standing in the road with his sword drawn. So he bowed low and fell facedown. 32The angel of the LORD asked him, "Why have you beaten your donkey these three times? I have come here to oppose you because your path is a reckless one before me.
It is interesting that animals can see the spiritual realm, but man must have his eyes opened. Balaam's donkey had tried to avoid the angel in the road with a drawn sword. Because Balaam could not see the angel at first, he beat his donkey for what he thought was stubbornness. The angel of the LORD (whom I believe is Jesus) enabled the beast to talk. Then the angel asked why Balaam had beaten his donkey. It seems God cares for these beasts. Proverbs tell us that a righteous man regards the life of his beast.
Though the LORD gave Balaam permission to go visit with the leaders that wanted to curse Israel, we later find out that Balaam's heart was giving in to greed. He knew God did not want to curse them, but he was holding out hope that he could somehow receive the reward offered. We have to watch carefully for these subtle heart changes from obedience and submission to greed. Don't dwell on what the world has to offer.
The LORD was angry with Balaam, even though they seemed to be on talking terms. The more we know, the more we are accountable. Balaam knew God and communed with Him, but greed captured his heart. He spurned his relationship with God by going after gain. When our path is a reckless one that will harm us, the faithfulness of God comes to oppose our recklessness. That is the mercy of God.