Gazing at the Horizon
From: Our Dally Bread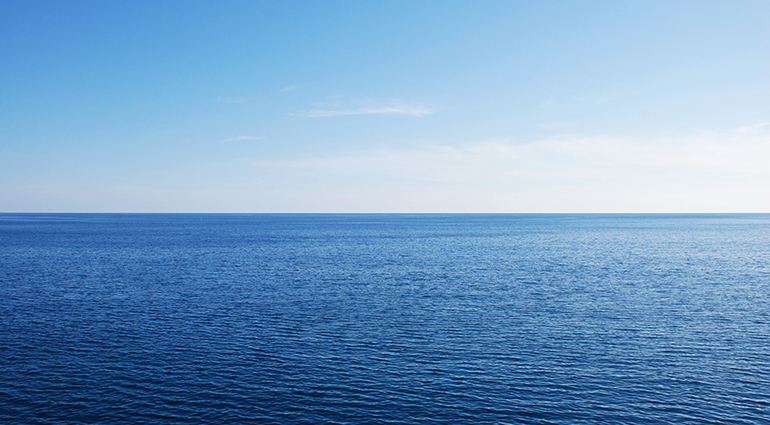 Almost as soon as the ferryboat started to move, my little daughter said she felt ill. Seasickness had already begun to affect her. Soon I was feeling queasy myself. "Just stare at the horizon," I reminded myself. Sailors say this helps to regain a sense of perspective.
The Maker of the horizon (Job 26:10) knows that sometimes in life we may become fearful and restless. We can regain perspective by focusing on the distant but steady point of our destiny.
The writer of Hebrews understood this. He sensed discouragement in his readers. Persecution had driven many of them from their homes. So he reminded them that other people of faith had endured extreme trials and had been left homeless. They endured it all because they anticipated something better.
As exiles, these readers could look forward to the city whose architect is God, the heavenly country, the city God prepared for them (Hebrews 11:10, 14, 16). So in his final exhortations, the writer asked his readers to focus on God's promises. "For here we do not have an enduring city, but we are looking for the city that is to come" (13:14).
Our present troubles are temporary. We are "foreigners and strangers on earth" (11:13), but gazing at the horizon of God's promises provides the point of reference we need.
Father, in the midst of troubles, help me to focus on Your promises.
Focus on God and regain perspective.
Justice satisfied
From: Charles Spurgeon
"Just to forgive us our sins, and to cleanse us from all unrighteousness." 1 John 1:9
Suggested Further Reading: Genesis 50:15-21
I have heard of Mr John Wesley, that he was attended in most of his journeyings by one who loved him very much, and was willing, I believe, to have died for him. Still he was a man of a very stubborn and obstinate disposition, and Mr Wesley was not perhaps the very kindest man at all times. Upon one occasion he said to this man, "Joseph, take these letters to the post." "I will take them after preaching, sir." "Take them now, Joseph," said Mr Wesley. "I wish to hear you preach, sir; and there will be sufficient time for the post after service." "I insist upon your going now, Joseph." "I will not go at present." "You won't?" "No, sir." "Then you and I must part," said Mr Wesley. "Very good, sir." The good men slept over it. Both were early risers. At four o'clock the next morning, the refractory helper was accosted with, "Joseph, have you considered what I said—that we must part?" "Yes, sir." "And must we part?" "Please yourself, sir." "Will you ask my pardon, Joseph?" "No, sir." "You won't?" "No, sir." "Then I will ask yours, Joseph!" Poor Joseph was instantly melted, and they were at once reconciled. When once the grace of God has entered the heart, a man ought to be ready to seek forgiveness for an injury done to another. There is nothing wrong in a man confessing an offence against a fellow-man, and asking pardon for the wrong he has done him. If you have done aught, then, against any man, leave thy gift before the altar, and go and make peace with him, and then come and make peace with God. You are to make confession of your sin to God. Let that be humble and sincere. You cannot mention every offence, but do not hide one.
For meditation: If we cannot bring ourselves to apologise to and to forgive those we have seen, we must know little about true confession to and the forgiveness of God whom we have not seen (Matthew 6:14,15; 1 John 4:20).

I no longer call you slaves, because the slave does not understand what his master is doing. But I have called you friends, because I have revealed to you everything I heard from my Father. (John 15:15)
Years ago there was an old German professor whose beautiful life was a marvel to his students. Some of them resolved to know the secret of it; so one of their number hid in the study where the old professor spent his evenings.
It was late when the teacher came in. He was very tired, but he sat down and spent an hour with his Bible. Then he bowed his head in secret prayer; and finally closing the Book of books, he said,
"Well, Lord Jesus, we're on the same old terms."
To know Him is life's highest attainment; and at all costs, every Christian should strive to be "on the same old terms with Him."
The reality of Jesus comes as a result of secret prayer, and a personal study of the Bible that is devotional and sympathetic. Christ becomes more real to the one who persists in the cultivation of His presence.
Speak thou to Him for He heareth,
And spirit with spirit will meet!
Nearer is He than breathing,
Nearer than hands and feet.
—Maltbie D. Babcock
The disciples could hardly believe their ears. Had Jesus forgotten how the Jews in Jerusalem recently tried to kill him? Why in the world would he want to put his life in danger by going back to Judea? (See John 11:1-16) But Jesus had just announced his intention to go to Bethany in response to a message that his friend Lazarus was sick. This news alarmed the disciples since Bethany was a mere two miles from Jerusalem; they tried to change his mind. "Rabbi, not long ago the Jews wanted to stone you to death," they reminded him. "Do you really want to go back there?"
Jesus answered their questions with a metaphor that contrasted walking in the light versus walking in darkness. He explained that people who walk during the "day" don't have to worry about stumbling because they have the knowledge of God's will to guide them, but those who walk in the darkness of their own understanding and self-reliance are likely to fall. Jesus understood what his well-intentioned disciples did not: as long as he submitted to God's plan for his life, no harm could come to him until the appointed time of his crucifixion. Jesus had no need to fear his enemies.
God has given each one of us a purpose and specific work to accomplish for him. As long as we're doing our best to follow his plan for our life, we don't need to worry about our safety. Nothing and no one on the earth can successfully interfere with God's purposes. But it's dangerous to leave the light of God's truth and walk down a path of disobedience. It's foolish to let ourselves be guided by the world's standards and advice or by our own understanding if those things contradict God's Word. That would be like traveling down a rocky road on a dark night with no source of light to guide us; we can expect to stumble and fall.
Any time we stray from God's will, we make ourselves vulnerable to temptations, Satan's traps, and spiritual deceptions, leading us to make unwise choices that can bring serious consequences. The only truly safe place to be is in the center of God's will for our life. As long as we follow where he leads, we'll be protected—even in situations that appear threatening or dangerous to human eyes. Letting our decisions and movements be shaped by obedience to God will set us free from fear concerning our welfare and safety. We may have to walk through some dark valleys on our life journey, but even in the shadow of death we have the security of knowing that we are never walking alone. The Light of the world is always right there with us.
Yea, though I walk through the valley of the shadow of death, I will fear no evil; For You are with me. Psalms 23:4 (NKJV)
Ask yourself: Am I walking in the safety of God's will for my life, or have I strayed from the path of his commands?