Ephesians 2:10
10 For we are God's masterpiece. He has created us anew in Christ Jesus, so we can do the good things he planned for us long ago.
You are God's masterpiece.
You're an Original
From: Our Daily Bread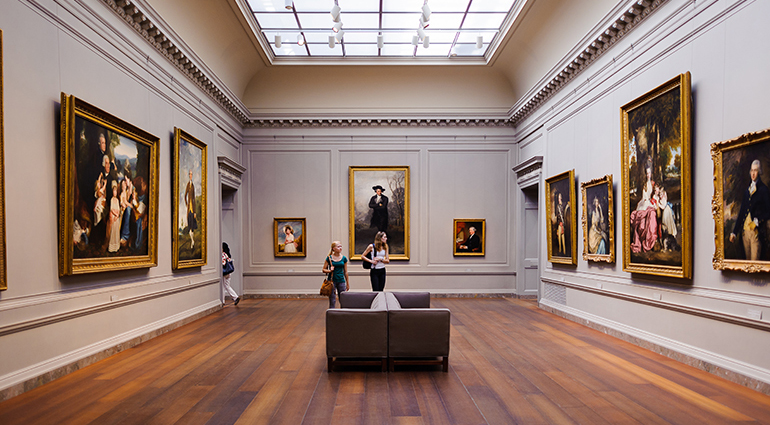 Know that the Lord is God. It is he who made us, and we are his. Psalm 100:3
Each of us is an original from God's hand. There are no self-made men or women. No one ever became talented, buffed, or bright all by himself or herself. God made each of us all by Himself. He thought of us and formed us out of His unspeakable love.
God made your body, mind, and soul. And He isn't done with you; He is still making you. His single-minded purpose is our maturity: "He who began a good work in you will carry it on to completion until the day of Christ Jesus" (Phil. 1:6). God is making you braver, stronger, purer, more peaceful, more loving, less selfish—the kind of person you've perhaps always wanted to be.
"[God's] unfailing love continues forever and his faithfulness continues to each generation" (Ps. 100:5 nlt). God has always loved you ("forever" goes both ways), and He will be faithful to you to the end.
You've been given a love that lasts forever and a God who will never give up on you. That's a good reason to have joy and to "come before him with joyful songs"! (v. 2).
If you can't carry a tune, just give Him a shout-out: "Shout for joy to the Lord" (v. 1).
I'm grateful, Father, that You are at work in me. I find it difficult to change and I wonder sometimes how or if I ever will. Yet I know that You are continuing Your work in me and as I look back I will see the growth You are producing. Thank You!
Spiritual growth occurs when faith is cultivated.
August 18, 2017


If God Is in It, I Can Rest
SUZIE ELLER
"Therefore, in the present case I advise you: Leave these men alone! Let them go! For if their purpose or activity is of human origin, it will fail. But if it is from God, you will not be able to stop these men; you will only find yourselves fighting against God." Acts 5:38-39 (NIV)
I felt God in the details from the beginning. It was hard work, but I was grateful to do it. I did everything I was supposed to do, but it didn't turn out the way I hoped.
Have you ever been there?
You're doing everything you feel Jesus has called you to do. It's a mix of messy and beautiful, and you're OK with that. You love the times you sense God doing something powerful, but there are times you work as hard as you can, and it doesn't turn out the way you think it should at all.
That can be discouraging, to say the least.
In today's passage, we find Peter and the apostles in a hard place. Despite their faithfulness, they have been jailed and beaten many times. They are human, so there are discouraging moments. Yet each time they are released, they go right back out and do what Jesus asked them to do.
At one point, their dogged persistence troubles the authorities. They meet to discuss their fate. That's when Gamaliel, a respected member of the community, speaks up:
"Let them go! For if their purpose or activity is of human origin, it will fail. But if it is from God, you will not be able to stop these men; you will only find yourselves fighting against God" (Acts 5:38-39).
If it is from God, you will not be able to stop them.
What if I looked at my assignments from God differently?
Whether loving a child, leading a ministry or investing in a relationship, if God is in it, then we can rest in it. Success isn't measured by challenges, our hard work or even the results.
If we know God has asked us to do something, that's sufficient. All He wants is for us to do our part. We can trust He's doing His. We might not see the eternal impact, but He does.
There will always be a mix of messy (our feelings, critical people, a desire to see immediate results) and faith as we follow Jesus. We might think it should be easier. We may believe it should bring us joy all the time. We might even equate off-the-charts results with pleasing Him. On days like that, we need to remember this:
If it is from God, you will not be able to stop [her]. Not because of us, but because of Him.
We can rest in what God's asked us to do, from beginning to end. We'll do our best. We'll be faithful. When we complete that assignment, we'll start listening for the next. We keep loving. We keep our heart attuned to His voice. We don't allow results or challenges to rob us of the joy of partnering with Him.
If God is in it, and we know that to be true, we are free to simply show up and do our part. After all, God is in charge of the results.
Heavenly Father, You invited me to partner with You, and I've made it all about the external. I've wrapped it around feelings or results or what I think it should look like. I shift the focus back to You. If You are in it, that's enough for me. Thank You for allowing me to partner with You in Your plans. In Jesus' Name, Amen.
Got Any Neighbors?
From: Get More Strength
"Love your neighbor as yourself." Matthew 22:39
Jesus' life and ministry dramatically demonstrated that the word prejudice is not in His vocabulary. In fact, He hates prejudice in any form. He detests racism, classism, and religious snobbery. Why? Because it defies who He is and what He came to do. No one escaped the embrace of His love and concern. And He calls us to love as He did—without limits. But prejudice blocks our ability to love as he did and denies us the privilege of being like Him in our world.
When the Pharisee hoped to embarrass Jesus by asking Him to name the greatest commandment, Jesus answered that we should love God with the totality of our being. And although it was more than the scheming lawyer had asked for, Jesus added the second most important command: "Love your neighbor as yourself" (Matthew 22:39
). Not "second" meaning less important, but sequentially. In other words, the authenticity of our love for God is measured by our attitudes and acts of love for others.
Ironically, the Pharisees prided themselves in mastering their love for God but were dreadfully lacking in love for their neighbor—which, in Jesus' book, would break the first command. Their prejudices—often supported by their self-constructed theology and traditions—reduced their circle of involvement to people who were a lot like themselves. When the "expert in the law" asked Jesus, "Who is my neighbor?" (Luke 10:29
), Jesus' concern was not identifying who our neighbor is, but whether or not we are acting in a "neighborly" way to others regardless of who they are.
The important dynamic in the story Jesus told about the Good Samaritan is not that the religious passersby were too busy to help the dying victim. It is rather that they were the true victims. The priest and Levite, trying to avoid ceremonial defilement, were victims of a distorted view of righteousness. And that distorted view disabled them from keeping the law's most fundamental command about loving those in distress regardless of who they are.
Which should give us modern folk pause about any thoughts or attitudes that might blind us to the needs of others outside our usual circle of concern. Because quite simply, if we can't love them, we can't love Jesus!
Lord, as difficult as it may be, I pray that you would bring to mind any prejudice that keeps us from loving others the way you love us. We want to love the way that Jesus loved—to be like the Good Samaritan in our willingness to tangibly care for those outside our usual circle. Please give us the strength, grace, and courage to love our neighbors. Amen.