1. "Your God, the Lord himself, will be with you. He will not fail you or abandon you."
2. "When they call to me, I will answer them; when they are in trouble, I will be with them."
3. "If the Lord had not helped me, I would have gone quickly to the land of silence. I said, 'I am falling'; but your constant love, O Lord, held me up."      2 Timothy 4:16,17
It's Not Good to Be Alone
From: Get More Strength.org
"The LORD God said, 'It is not good for the man to be alone' " Genesis 2:18
While reading through the creation narratives in Genesis for the umpteenth time, I was struck by God's commentary on Adam being alone in the garden. What caught my attention was the observation God made after each stroke of his creative power: "God saw all that he had made, and it was very good" (Genesis 1:31
). Until, that is, He made Adam. At that point, something was not good: "It is not good for the man to be alone" (Genesis 2:18
). So He fixed it and did something really good—He made Eve!
A couple of thoughts race through my brain at this point. I couldn't agree more with God's assessment—man needs woman! Left to ourselves we would be more like untamed savages than decent, sensitive specimens of humanity. I have no idea how off track my life might be if my wife Martie had not come along. She is a consistent check to my social insensitivities, to my self-serving male perspectives on life, to what color combinations work and which ones don't, and to making life better for our kids and grandkids. To say nothing of her sensitive heart toward God that stimulates me to want to serve and follow Him with greater enthusiasm. Thankfully, for all of us guys, God didn't get carried away with how good it all was but saw the single flaw and did something to save the world from men left to themselves! Bravo for that stroke of creative genius. As the French say, Vive la difference!
The other thought that caused me to stop reading long enough to let it sink in, is that being alone is not a good thing for anyone. God made us in His image—which means that we, like Him, are relational beings. In the beginning, it was a literal paradise of fulfilling relationships as God in an unhindered way walked with Adam and Eve in the garden and they enjoyed the fullest experience of intimacy with each other. So, where did loneliness come from? How did the demon of loneliness that haunts many of our hearts today alienate us from the others that we so desperately need?
I want to be clear here and admit that loneliness isn't always brought on by us or our choices. So this is not a guilt trip. But as the story unfolds, we see the damage of alienation haunting the landscape of life. Adam and Eve hide from God out of fear of getting caught, and Adam blames Eve for his disobedience, which clearly drives a wedge into their flawless intimacy. And the deep fellowship on every satisfying level is now replaced by alienation, blame, distrust, and shame.
Which leaves me wondering, how could people who had it so good end up with everything so out of sync? It all started going south when Eve believed that to live for herself and her own gain was more important than living to love God and Adam. And to make matters worse, Adam followed suit.
The lesson here is huge. Living for what's "best for me," while ignoring the needs, wishes, and interests of others always brings alienation and aloneness.
Thank God that He has made a way for us to restore relationships and to recapture a portion of the intimacy of Eden. When we follow the way of Jesus and live to love and serve others, aloneness gives way to intimacy and our self-serving acts of alienation dissolve into a bonding that gets us wonderfully stuck on each other again.
And guys, that should probably start with us since it's not a good thing for us to be alone!
God Will Help You
From: Streams in the Desert
God is in the midst of her; she shall not be moved: God shall help her, and that right early (Psalms 46:5)
"Shall not be moved"–what an inspiring declaration! Can it be possible that we, who are so easily moved by the things of earth, can arrive at a place where nothing can upset us or disturb our calm? Yes, it is possible; and the Apostle Paul knew it. When he was on his way to Jerusalem where he foresaw that "bonds and afflictions" awaited him, he could say triumphantly, "But none of these things move me."
Everything in Paul's life and experience that could be shaken had been shaken, and he no longer counted his life, or any of life's possessions, dear to him. And we, if we will but let God have His way with us, may come to the same place, so that neither the fret and tear of little things of life, nor the great and heavy trials, can have power to move us from the peace that passeth understanding, which is declared to be the portion of those who have learned to rest only on God.
"Him that overcometh will I make a pillar in the temple of my God; and he shall go no more out." To be as immovable as a pillar in the house of our God, is an end for which one would gladly endure all the shakings that may be necessary to bring us there!
—Hannah Whitall Smith
When God is in the midst of a kingdom or city He makes it as firm as Mount Zion, that cannot be removed. When He is in the midst of a soul, though calamities throng about it on all hands, and roar like the billows of the sea, yet there is a constant calm within, such a peace as the world can neither give nor take away. What is it but want of lodging God in the soul, and that in His stead the world is in men's hearts, that makes them shake like leaves at every blast of danger?
—Archbishop Leighton
"They that trust in the Lord shall be as Mount Zion, which cannot be removed, but abideth forever." There is a quaint old Scottish version that puts iron into our blood:
Who sticketh to God in stable trust
As Zion's mount he stands full just,
Which moveth no whit, nor yet doth reel,
But standeth forever as stiff as steel!
Timeless Savior
From: Our Daily Bread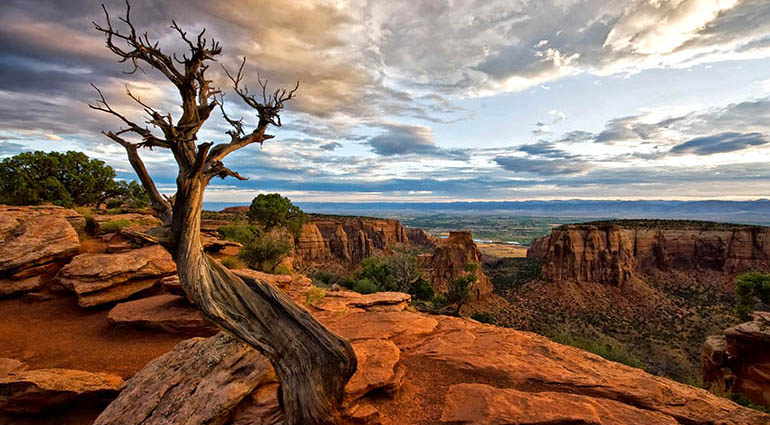 "Very truly I tell you," Jesus answered, "before Abraham was born, I am!" John 8:58
Jeralean Talley died in June 2015 as the world's oldest living person—116 years of age. In 1995, the city of Jerusalem celebrated its 3,000th birthday. One hundred sixteen is old for a person, and 3,000 is old for a city, but there are trees that grow even older. A bristlecone pine in California's White Mountains has been determined to be older than 4,800 years. That precedes the patriarch Abraham by 800 years!
Jesus, when challenged by the Jewish religious leaders about His identity, also claimed to pre-date Abraham. "Very truly I tell you," He said, "before Abraham was born, I am!" (John 8:58). His bold assertion shocked those who were confronting Him, and they sought to stone Him. They knew He wasn't referring to a chronological age but was actually claiming to be eternal by taking the ancient name of God, "I am" (see Ex. 3:14). But as a member of the Trinity, He could make that claim legitimately.
In John 17:3, Jesus prayed, "This is eternal life: that they know you, the only true God, and Jesus Christ, whom you have sent." The timeless One entered into time so we could live forever. He accomplished that mission by dying in our place and rising again. Because of His sacrifice, we anticipate a future not bound by time, where we will spend eternity with Him. He is the timeless one.
He's with You
From: Our Daily Journey
Friends often remind me, "You're not alone." "God is with you," they say. "Yes," I answer. "He is." Yet there are times—mostly when I'm pressed to accomplish a daunting task without anyone physically present to help me, or when I'm alone for extended periods of time—that I wonder, "Is God here with me?" And, if so, "What does His presence truly mean?"
How do we know that, "God is with you," isn't a manmade statement conjured up to make people feel better? Is it a motivational quote to spur people on when they're struggling? A way to politely say, "God is with you, so you don't need my help"?
We know God is with us, because Scripture promises He's there. "The Lord your God is living among you," we read in Zephaniah 3:17. "He is a mighty savior. He will take delight in you with gladness. With his love, he will calm all your fears. He will rejoice over you with joyful songs."
We don't need to linger in discouragement or doubt, for God says, "I am with you." He told His people, "Don't be discouraged, for I am your God. I will strengthen you and help you. I will hold you up with my victorious right hand" (Isaiah 41:10).
In Isaiah 43:1-3, and throughout Scripture, God offers us truth that can change our lives and give us hope when we truly embrace it. He promises us that when we're redeemed we're also summoned by name; we are His. Compassionately, He says, "When you go through deep waters, I will be with you. . . . I am the Lord, your God, the Holy One of Israel, your Savior" (Isaiah 43:2-3).
May we cling to this infinite, unwavering truth: God goes before us and He is with us. Just as He promised Zephaniah, He's a loving God who "will live among [us]!" (Zephaniah 3:15).